575th TN Attorney joins TN Free Legal Answers!
Tennessee's virtual legal advice clinic, tn.freelegalanswers.org, welcomed its 575th and 576th volunteer attorneys over the Veteran's Day Weekend. Attorneys, who must be authorized to give pro bono advice in Tennessee, login to the website and choose which questions they would like to answer. The questions are posted by vulnerable Tennesseans who make at or below 250% of the federal poverty guidelines. The questions must be about civil legal topics. See the infographic below to learn more about benefits to volunteering with the site.
Throughout October 2016, law schools and bar associations hosted virtual legal advice clinics where attorney volunteers worked together or with law students to help give advice to dozens of Tennesseans with civil legal issues.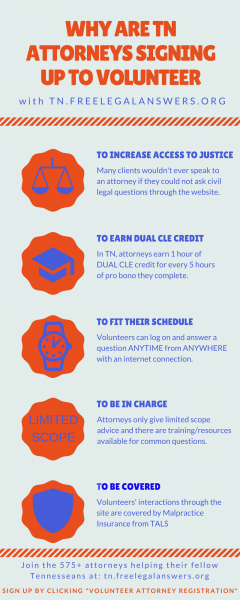 Posted:
November 14, 2016