KBA Honors LAET's Terry Woods
KNOXVILLE (September 7, 2016) – Terry J. Woods, who recently retired from Legal Aid of East Tennessee (LAET), has been honored by the Knoxville Bar Association (KBA) for her 15 years as LAET's Knoxville Pro Bono Project Director. Ms. Woods was surprised with a "Resolution of the Knoxville Bar Association" during KBA's annual Supreme Court Dinner on September 7th.
KBA President Wayne R. Kramer presented the resolution to Ms. Woods, which recognizes "her legacy of excellent legal representation and the relations she developed between the private bar and other professions." Ms. Woods was also cited for her pursuit of access to justice for those in need of legal services and her dedication to Legal Aid of East Tennessee.
"As Director of the Pro Bono Project for the past sixteen years, Terry has built an incredible foundation and is leaving East Tennessee with a wonderful legacy," commented Marsha Wilson, KBA Executive Director. "She approached her position with an open and cooperative spirit and managed to get pro bono cases placed at every opportunity. Her great sense of humor and passion for the clients she serves has always made her a force to be reckoned with."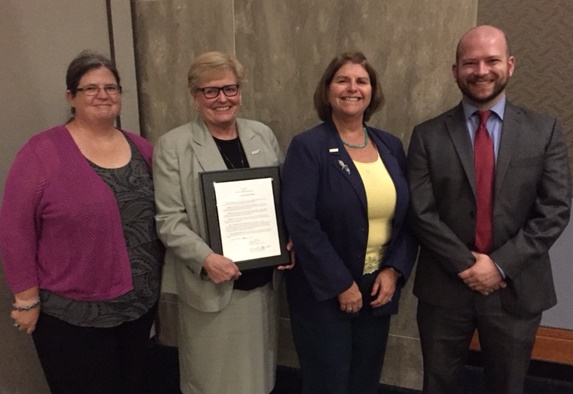 Ms. Woods was also presented a framed original of the resolution, signed by Mr. Kramer and Ms.Wynne du Mariau Caffey-Knight, KBA Secretary. For more information about the annual Supreme Court Dinner, contact the Knoxville Bar Association at (865) 522-6522.  Pictured with Ms. Woods (2nd from left) are Kathryn Ellis, Debra House, and Alex Brinson, all from LAET.
Legal Aid of East Tennessee's mission is to ensure justice for elderly, abused, and low-income people by providing a broad scope of civil legal assistance and advocacy. LAET serves eligible persons in 26 counties through offices in Chattanooga, Cleveland, Knoxville, Johnson City, Maryville, and Morristown.
For more information about Legal Aid of East Tennessee, contact Bill Evans, LAET Director of Marketing and Communications at (865) 251-4948 or by email at bevans@laet.org.
Posted:
September 13, 2016