LAET Chattanooga Wins $10,000 Prize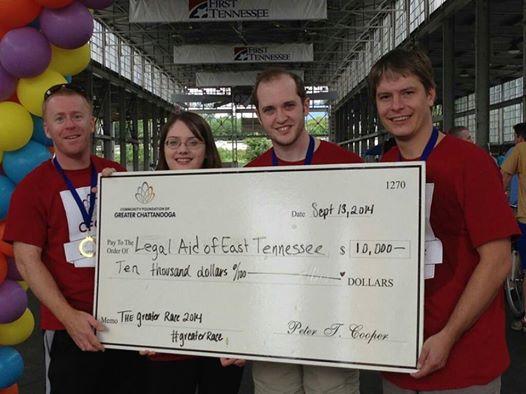 The Community Foundation of Greater Chattanooga (CFGC) held "The Greater Race" last Saturday morning in downtown Chattanooga in celebration of the Foundation's 50th anniversary. The Chattanooga office of Legal Aid of East Tennessee (LAET) won the Second Place $10,000 prize, which was presented today.
Russell Fowler, LAET Associate Director, said, "This impressive win proves that the LAET Chattanooga staff is not only incredibly smart but incredibly fast. Our committed, young, energetic lawyers continually give me wonderful surprises in and out of court. And this unexpected $10,000 will be immediately put to use serving low-income Tennesseans in the Chattanooga. So, slowpokes and wrongdoers beware!"
The Foundation selected 25 Chattanooga non-profits it has funded in the past to take part in the geo adventure race. Each of the selected organizations supplied a team of four racers on bicycles and two additional volunteers. The 25 teams traversed downtown Chattanooga geocaching-style competing for a total of $35,000 in "geo-cash" event awards. LAET's racing team included Charlie McDaniel, Ben Danford, Emily Lay and Johnny O'Donnell and two event volunteers, Amy Danford and Emily O'Donnell. In addition to the $10,000, medals and a trophy were awarded.
Posted:
September 18, 2014