TALS Staff attends National Equal Justice Conference
This May, staff of the Tennessee Alliance for Legal Services joined other support staff, attorneys, and officials at the 2013 Equal Justice Conference in St. Louis. The conference, hosted by the American Bar Association's Standing Committee on Pro Bono and Public Service along with the National Legal Aid and Defender Association, focused on the development and delivery of legal services to underserved populations.
TALS' new Executive Director Ann Pruitt attended the pre conference to start her tenure full of new idea and i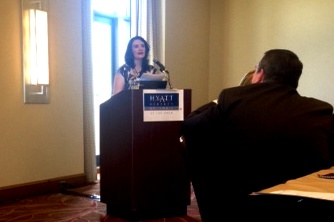 ncrease her understanding of best practices in the legal services and acess to justice fields. TALS' Operations Director, Samantha Sanchez, presented on a CLE panel about Online Tennessee Justice (see photo at right) - the pro bono website TALS hosts in conjunction with Baker Donelson and the Tennessee Bar Association. Access to Justice Chairman and Baker Donelson Attorney Buck Lewis also presented to mulitple groups about Online Tennessee Justice.
Besides TALS staff, Tennessee was well represented at the conference with attendees ranging from public legal services to the private bar. Visit Elizabeth Todaro's, TALS Board of Director member and Tennessee Bar Association Access to Justice/Public Education Coordinator, article on the event here.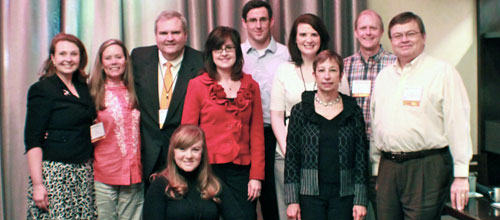 Some attendees to 2013 the Equal Justice Conference from Tennessee included:
From left: Liz Todaro, Malinda Lewis, Buck Lewis, Palmer Wiliams, Ann Pruitt, Tim Hughes, Samantha Sanchez, Justice Janice Holder, Jonathan Steen and Stewart Clifton.
Picture by: Liz Todaro, TBA