Memphis Business Quarterly Discusses Memphis Area Legal Services' 2012 Fundraising Campaign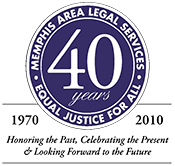 Memphis Area Legal Services (MALS) is launching its "We're All In" campaign targeting legal professionals with a goal of increasing private donations and decreasing the organization's government dependence.
MALS helps more than 12,000 people annually, but with government funding down by 18 percent this year and trending toward even more significant decreases, the organization's budget could come down over $500,000 by 2014. That translates to turning away 8,400 people in need of legal services, and MALS already has to turn away 66 percent of applicants because of lack of funding.
Read a Memphis Business Quarterly story covering the 2012 MALS "We're All In" campaign here.