TN Free Legal Answers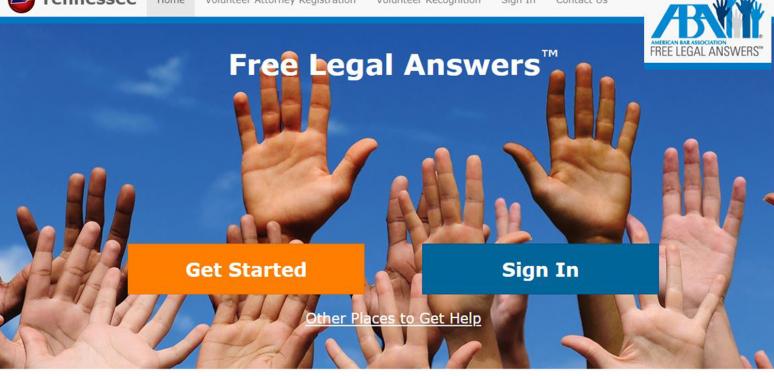 Volunteer with TN Free Legal Answers
About TN Free Legal Answers: Ask a question
Tennessee Free Legal Answers is a web portal where Tennesseans can ask advice from a licensed Tennessee attorney. Visit the website tn.freelegalanswers.org to email a lawyer to ask a question about your civil legal issue. This is a free service. First, you will give some details about yourself. These details will be used to see if you qualify for the help. Then you'll post your civil legal question so a lawyer can offer legal advice and information about your issue. You'll receive an email when you receive a response. The site used to be named Online TN Justice, but its name changed to match other states when the model went national.
About TN Free Legal Answers: Using Technology to Expand Pro Bono Opportunities
The concept of TN Free Legal Answers is a web-based pro bono clinic for low-income Tennesseans who might otherwise fall through the cracks of receiving legal assistance. Using a web-based platform, qualifying users can post questions about their civil legal needs and receive basic legal information and advice from attorneys. The website is easy-to-use and is convenient for both volunteer attorneys and low-income Tennesseans. The goal of this project is twofold: to increase access to justice for low-income Tennesseans, particularly in rural areas and to remove barriers to attorneys providing pro bono services.
Are you a TN attorney interested in volunteering with TN Free Legal Answers? Find out more here.
Are you another state interested in launching a site like TN Free Legal Answers? Find out more here.
Want to ask a legal question? Click here.
Last updated on .