LAET Celebrates 50th Anniversary April 23rd
You are invited to join the Legal Aid Society of East Tennessee (LAET) as they celebrate 50 years of brining civil legal justice to East Tennessee!
When: Thursday, April 23, 2015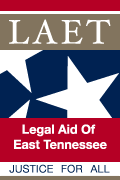 Time: 5:30 - 8:30pm EST
Where: The Foundry at Worlds' Fair Park in Knoxville, TN.
Program:
5:30pm - Meet Mingle and view displays and video with mustice by Anne Jackson, Harpest.
6:00pm - Dinner
6:30pm - Welcome - Lori Tucker, WATE 6 On Your Side; Recongition of Dignitaries, & Special Features

Jim Sandman, Legal Services Corporation President
Justice Earl Johnson, Author "To Establish Justice for All: The Past and Future of Civil Legal Aid in the United States"
LAET would like to thank their event sponors:
Last updated on .