TALS' Equal Justice University Conference
About EJU
Equal Justice University (EJU) is the annual gathering of approximately 200 lawyers, advocates, social worker professionals, and pro bono attorneys involved in providing civil legal assistance across Tennessee. EJU provides a unique opportunity for this community to gain up to 14 hours of Continuing Legal Education credit (CLEs/CEUs) as well as networking through task force meetings and social functions. EJU also provides dynamic speakers that express the value in being a part of the access to justice community. The EJU experience not only renews the civil legal service community's commitment to equal access to justice in Tennessee; it also introduces new pro bono lawyers, community advocates, and law students to this important mission.
Save the Date: September 9 - 11, 2020 at Embassy Suites, Murfreesboro, TN
Click here to view the 2019 agenda.
Access to Justice Awards
Each fall, TALS presents the Access to Justice Awards to recognize individuals who have contributed to Tennessee's equal justice community.  Click here to learn more about the awards and the nomination process.
The following 2019 Access to Justice Award recipients, were honored at Equal Justice University on August 28-30, 2019:
Janice M. Holder Access to Justice Award: Deborah Taylor Tate, Director of the Administrative Office of the Courts
B. Riney Green Access to Justice Award: Jeannie Kosciolek, Memphis Area Legal Services
New Advocate of the Year Award: Lucy Boateng, Community Legal Center, and Benjamin Danford, Legal Aid of East Tennessee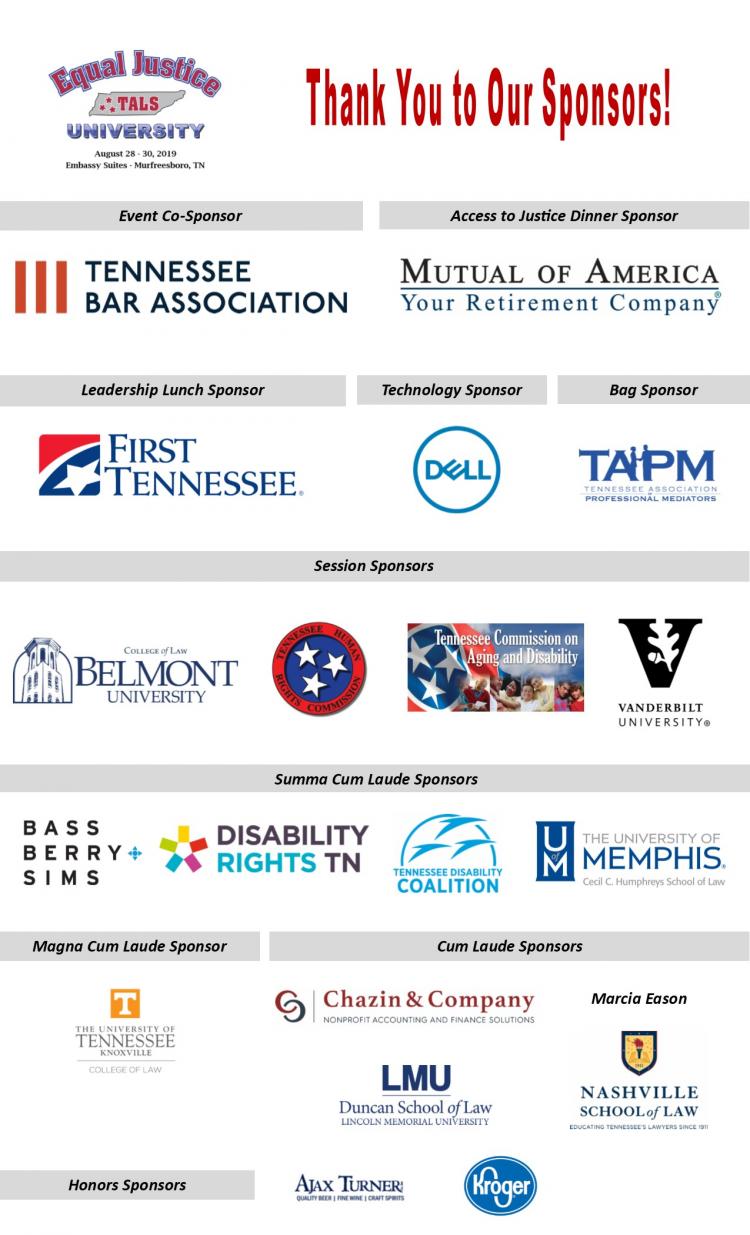 2019 Conference Planning Committee:
Sheri Fox, Chair - Legal Aid of East Tennessee
Sonya Bellafant - Legal Aid Society of Middle TN & the Cumberlands
Cathy Clayton - West TN Legal Services
Rita Gibson - Memphis Area Legal Services
Linda Hall - Legal Aid of East Tennessee
Ashley Holliday - West TN Legal Services
Deb House - Legal Aid of East Tennessee
Patricia Jones - Legal Aid Society of Middle TN & the Cumberlands
Jeannie Kosciolek - Memphis Area Legal Services
David Kozlowski - Legal Aid Society of Middle TN & the Cumberlands
Crystal Lugo - Legal Aid of East Tennessee
Lauren Meeker - TN Commission on Aging and Disability
Lisa Primm - Disability Rights TN
Ann Pruitt - TN Alliance for Legal Services (staff)
Joy Reed - TN Alliance for Legal Services (staff)
Joshua Thomas - Legal Aid Society of Middle TN & the Cumberlands
Liz Todaro - TN Bar Association
Anne Louise Wirthlin - Administrative Office of the Courts
Deborah Yeomans-Barton - Legal Aid of East Tennessee