TALS' Equal Justice University Conference
Location: Embassy Suites - Murfreesboro, TN
Click the link below to see more information about:
Sponsorship
TALS is now accepting sponsors at multiple sponsorship levels, for our 2018 annual gathering of the Tennessee's access to justice community. Equal Justice University provides sponsors the opportunity to promote their services to approximately 250 attorneys, judges, advocates, and other guests. See our 2017 Sponsors below!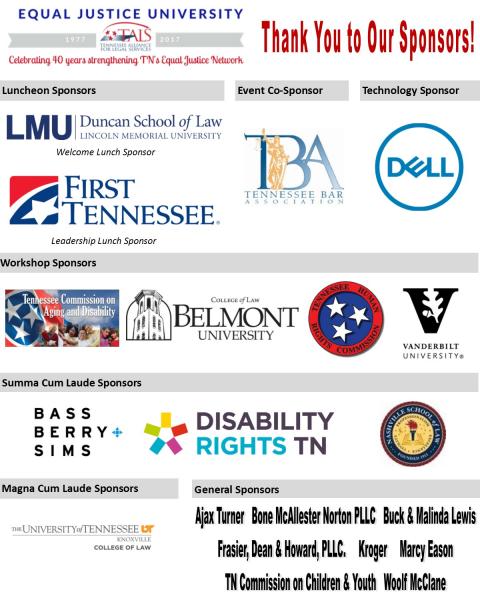 About EJU
Equal Justice University (EJU) is the annual gathering of approximately 200 lawyers, advocates, social worker professionals, and pro bono attorneys involved in providing civil legal assistance across Tennessee. EJU provides a unique opportunity for this community to gain up to 15 hours of Continuing Legal Education credit (CLEs/CEUs) as well as networking through task force meetings and social functions. EJU also provides dynamic speakers that express the value in being a part of the access to justice community. The EJU experience not only renews the civil legal service community's commitment to equal access to justice in Tennessee; it also introduces new pro bono lawyers, community advocates, and law students to this important mission.
Conference Planning Committee
If you'd like to join the Equal Justice University planning committee, email Samantha Sanchez, TALS' Director of Training, for more information. Members include:
Harrison McIver, Chair - Memphis Area Legal Services
Laura Brown - TN Commission on Aging and Disability
Nayeli Chavez - TN Alliance for Legal Services (staff)
Ashley Holliday - West TN Legal Services
Deb House - Legal Aid of East Tennessee
Patricia Jones - Legal Aid Society of Middle TN
David Kozlowski - Legal Aid Society of Middle TN
Lisa Primm - Disability Rights TN
Ann Pruitt - TN Alliance for Legal Services (staff)
Brian Puster - Legal Aid of East Tennessee
Samantha Sanchez - TN Alliance for Legal Services (staff)
Joshua Thomas - Legal Aid Society of Middle TN
Kathryn Tucker - West TN Legal Services
Liz Todaro - TN Bar Association
Anne-Louise Wirthlin - Administrative Office of the Courts