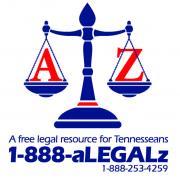 Have legal questions? Answers start here....
By phone, dial 1-888-aLEGALz (1-888-253-4259). Our helpline attorney will answer the call to provide legal advice and a referral to an appropriate entity. If the helpline attorney is on the other line, please a voicemail or try your call again later.
What is 1-888-aLEGALz?
1-888-aLEGALz was created by a coalition of Tennessee legal groups and Memphis-based International Paper. Together, they have joined forces to fund and operate a toll-free phone line offering legal information and referrals to low-income Tennesseans,
aLEGALz will assist Tennesseans in finding resources to deal with civil legal issues. Those who cannot afford a lawyer may call the line at 1-888-253-4259 and leave a message any time. Calls will be returned by a licensed Tennessee lawyer.
See the announcement on the Administrative Office of the Courts website here.